Figure Drawing
---
For about 10 years I had been making an effort to regularly attend life drawing sessions and it's something I've just recently gotten back to doing. Life drawing is an excellent way of developing skills regardless of the style you work in and there's a special kind of magic in it when you finally feel like you've done one well.
Untitled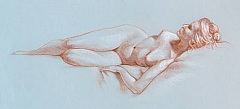 For this drawing, I used red verithin colored pencils and white pastel on a light blue charcoal paper to suggest the combination of warm and cool tones presented by our blond, fair-skinned model.
See prices or order prints.