Other Works
---

Speed 10 mph
According to the caption, this picture of my grandmother was taken at Jim and Fran's place in Florida, in 1975. Nobody has any idea who the Neffs are.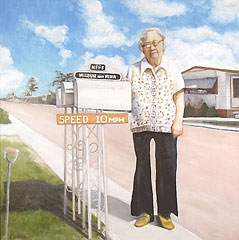 I was digitizing snapshots in an old family photo album when I came across this one and immediately knew I wanted to turn it into a painting. It's wonderful the way that casual snapshots can be so very artificial while at the same time seeming so very real, and do this while unintentionally creating such interesting and dynamic compositions.
---
For about 10 years I had been making an effort to regularly attend life drawing sessions and it's something I need to get back to doing. Life drawing is an excellent way of developing skills regardless of the style you work in and there's a special kind of magic in it when you finally feel like you've done one well.
Untitled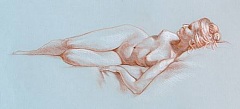 For this drawing, I used red verithin colored pencils and white pastel on a light blue charcoal paper to suggest the combination of warm and cool tones presented by our blond, fair-skinned model.
---
The Grand Canyon of the Yellowstone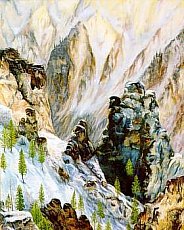 For many years, the open landscapes of the American West were the primary inspiration for most of my paintings. Working from my own photographs, I wanted the landscapes to appear as if they expanded beyond the boundaries of the canvas in both space and time. I also occasionally did abstract treatments, but only when the image itself suggested it.