Tacky Treasures
---
A household collection of salt and pepper shakers and other fun figurines are the models for this series of works. These traditionally realistic paintings of unconventional subject were greatly influenced by botanical illustration and the Index of American Design. There are three goals common to each work in the series: create a beautiful composition, attain a high degree of realism, and give the objects life and personality.
Read my full artist's statement.
---
Two Clowns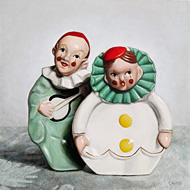 Two ashtrays, purchased on eBay. This may be the closest I've come to creating a traditional still life painting.
---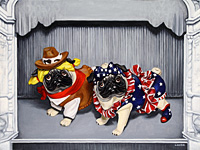 A commissioned work for an owner of many pugs. These were 2 small resin statues I found in a thrift store.
---
Ragtime Band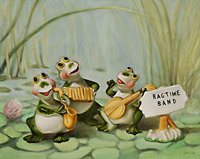 Three little ceramic figures. I made them at home by putting them on lily pads on a pond.