Northern Virginia Dayhikes
---
Inside or near the Beltway
Distance:
Location: Great Falls Park, Maryland. May also be accessed from parking lot across the street from the Old Anglers Inn. The C loop is accessed at Carderock.
Picture: Looking up river at the Mather Gorge. See also my other Great Falls photos.
Map: Maps and more information from the National Park Service.
Description: The main loop follows the edge of Bear Island along the top of the cliffs of Mather Gorge, providing many excellent views of the Potomac River and many scenic spots among the rocks. The return half takes you back on the towpath along the historic C&O Canal (by crossing the C&O canal, you can extend the loop using some forest trails). You can also head downstream to the very pleasant (and less crowded) B section of the trail and continue even further to hike through the Carderock area on the C section.
Notes:
Much of the A loop goes over boulders and there's one short traverse across a steep rock face. Give yourself more time than the short distance would suggest.
This trail is very crowded on weekends. The C&O Canal towpath section of trail gets heavy use even on weekdays.
A very short side trip from the start of the hike at Great Falls Park will take you on a boardwalk through a rare example of bedrock river terrace forest, ending in an excellent viewpoint of the falls.
You can get a map at the park entrance station, but it isn't really necessary unless you're going to use the forest trails. There is a small fee to enter the park, but you may avoid this by starting the hike from Carderock or from the parking area at the Old Angler's Inn.
Your hike may be extended up or down river by walking on the C&O Canal towpath (you could actually take this all the way into Georgetown or all the way out to Harpers Ferry and beyond).
last hiked: Spring, 2019
Distance:

10 miles one way, up to 0.5 miles to access trail

Location: Trail runs along the Virginia side of the Potomac River, starting at the Beltway and extending south to Rosslyn at Key Bridge. Recommended access points (N to S):

Turkey Run Park - several nice trails down to the river
Parking lot at Chain Bridge - easy access to Pimmit Run and overlook
Zachary Taylor or Potomac Overlook Park - scenic hike down Donaldson Run
Windy Run park - nice access to southern end of trail
Picture: Sessile Trillium (Toadshade) on the trail in mid-April.
Map: An on-line brochure has a very good map of the trail (although a map isn't really necessary for hiking this).
Description: Although right next to DC, you won't see many people on this trail during a weekday. It mostly follows the edge of the Potomac River, bordered by rocky bluffs and passing several large streams along the way. The northern portion, accessed via Turkey Run Park, is probably the most scenic and the most isolated from the urban noises around you. At Chain Bridge there is a short but pretty section of trail which runs along Pimmit Creek and also a good overlook from a high bluff. A loop hike can be made on the southern portion of the trail by crossing Key Bridge into Georgetown and then following the C&O Canal up to Chain Bridge.
Notes:
The Turkey Run section of trail is particularly nice in mid to early April when the flood plains are carpeted with Virginia Bluebells and the hillsides covered with Spring Beauties and Dutchmans Breeches.
Portions of the trail may be flooded during times of high water. You can always find a way around, but you might get muddy.
A nearly 2 mile section of trail has to leave the river to go around private property between Turkey Run and Chain Bridge. This is not a particularly interesting section.
In Rossyln, the trail ends at the pedestrian bridge to Roosevelt Island, which has a nice 1.5 mile loop around the island. This is also the northern starting point of the Mount Vernon trail, a paved trail (used heavily by bikers and joggers) which will take you past National Airport, Old Town Alexandria, through some wetlands, and finally to Mount Vernon (18 miles one way).
last hiked: 2013
Manassas Battlefield Park
Distance:
Location: Manassas, VA
Picture: a battlefield just outside of the Visitor Center.
Map: Map and description of area.
Description: These walks take you through open fields and forest, over streams, and past many historical markers and artifacts as it also takes you back in time to re-live the Civil War battles of First and Second Manassas. The First Manassas Trail is probably the more scenic of the loops as it takes you through a swamp to the Stone Bridge over Bull Run.
Notes:
Get oriented at the excellent visitor center. The park brochure has a small trail map. You'll need it, because the trail signs can be confusing at times (you can't really get lost anywhere but it's good to know when you're supposed to be turning).
Both trails cross a busy highway. Use extreme caution.
You are supposed to get an entrance permit ($3) if you're going to be hiking any of the trails.
last hiked: 2004

Great Falls/Difficult Run

Distance: 5 - 7 miles, one hill of about 100 feet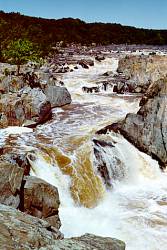 Location: Great Falls Park, VA
Picture: The Virginia side of Great Falls, from an overlook near visitor center. See also my other Great Falls photos.
Map: Maps and other information from the National Park Service
Description: The trail goes through forest, a small swamp and follows the rocky Difficult Run down to the Potomac River. It runs along the top of the cliffs lining Mather Gorge, passes through the 18th century remains of Matildaville and the Patowmack Canal, and provides access to the viewpoints of Great Falls.
Notes:
Many trails crisscrossing this area give you a variety of options, particularly in the areas near the visitor center. A trail leading upstream from the visitor center will connect you with Riverbend Park and several more miles of trail.
You can get a trail map at the park entrance station. There is a small fee to enter the park, but you can avoid this by using the parking area at Difficult Run.
The spectacular scenery here really deserves a higher ranking than what I gave it, but somehow I just feel that the area is more conducive to short outings and family picnics than it is to dayhiking. Most of the best views and interesting historical sites can be easily reached in 5-15 minutes of walking from the visitor center.
last hiked: 2007

Distance: up to 17.7 miles one way with a few moderate hills

Location: Runs along southwestern border of Fairfax County, Access (N to S) at:

Bull Run Regional Park
Hemlock Overlook Regional Park
Bull Run Marina
Fountainhead Regional Park
Map: On-line Map available (but not needed for hiking the trail).
Description: Walk through forests along the banks of Bull Run and the Occoquan River. The south end meanders over hillsides for several miles before actually starting to follow the river. The north end starts off in forested flood plains. In between is an excellent trail running mostly right along the stream. A 0.4 mile trail from Hemlock Overlook Regional Park is a good access point as it takes you through the forest down to a rocky section of stream.
Notes:
In early to mid April, the flood plains at Bull Run Regional Park are carpeted with spring beauties and Virginia bluebells. During a good year, it's one of the most impressive display of wildflowers you'll ever see.
The trail can get very wet and muddy if it has been raining, particularly the northern section.
Hemlock Overlook Regional Park provides the opportunity to make several partial or full loops of up to 3.5 miles.
last hiked: 2005

Fairfax Cross-County Trail

Distance: up to 38 miles one way with some hills but little significant elevation change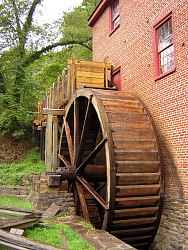 Location: Runs mostly north/south through the center of Fairfax County.
Some of the better access points include (N to S):

Georgetown Pike
Vale Road
Miller Heights Road
Picture: Colvin Run Mill
Map: a map is not needed while hiking, but familiarity with it is highly recommended since not all areas are well marked and some intersections are confusing. High-res maps are available from Fairfax County. This trail is constantly being added to and improved, so be prepared for surprises.
Description: A convenient destination when you need to escape into the forest. Walk along Difficult Run and Accotink Creek, finding occasional solitude (on weekdays) and some pretty good bird watching. Deer are common if you're on the trail early and you might also see an occasional fox.
Notes:
Through Oakton and past Fairfax City, the trail follows a very busy road for several miles (from the Oak Marr Rec Center to Thaiss Park). An unofficial route, which attempts to follow Accotink Creek as long as possible, requires navigating an unmarked and sometimes overgrown network of trails. Neither of these are recommended if you can avoid it.
Through Wakefield Park and from Lake Accotink to Old Keene Mill Road, you can easily leave the main route and use informal trails which run along the banks of Accotink Creek. The Cross-County trail also forms half of a nice loop trail around Lake Accotink.
Walking from Byron Avenue Park (Old Keene Mill Road) to Hooes Road requires quite a bit of street travel. The remaining parts of this stretch are pleasant enough but not particularly notable.
The start of the trail at Difficult Run can be made part of a loop using the trails in Great Falls Park
At Pohick Road, the trail continues south by connecting up with the Laurel Hills Greenway and then winding its way on an interesting and unusual trip through the now vacant Lorton Correction Complex. It finally ends by the river at Occoquan Regional Park.
At Leesburg Pike, Colvin Run Mill is just a few steps away and well worth the side trip.
last hiked: 2007
Distance:

Capital Crescent Trail - up to 13 miles one way
Capital Crescent/Rock Creek loop - 17 miles
Rock Creek Park loop - up to 9 miles
C&O Canal Tow Path - up to 185 miles one way
Soapstone Valley/Melvin Hazen Loop - 2.5 miles
Location: The Capital Crescent Trail starts in Georgetown, passes through Bethesda, and ends up in Silver Spring. The C&O Canal Tow Path starts in the same place and follows the Potomac River west. The Rock Creek Park loop starts just north of the National Zoo and extends north to the Maryland border.

Map:

Small trail maps with descriptions,
NPS map of Rock Creek Park
a low-res map of the Capital Crescent Trail
much information about the C&O Canal Tow Path.
Description: Rock Creek Park with its extensive forest and many streams provides an excellent place to escape from the surrounding urban environment. The Capital Crescent Trail follows an old railroad line along the C&O Canal, through an interesting tunnel, by Little Falls Branch, and then into Bethesda and Silver Spring. The C&O Canal Tow Path, situated between the Canal and Potomac river, starts in Georgetown and heads up the Potomac. Various other trails in DC will take you through nicely forested stream valleys.
Notes:
Metro access to the Capital Crescent trail is from Rosslyn or Foggy Bottom at one end, Bethesda in the middle and Silver Spring at the other end. Silver Spring is also only a moderate walk from the northern end of Rock Creek Park. The central section of the park is best accessed from Cleveland Park (using the Melvin Hazen Trail), or Van Ness/UDC (through Soapstone Valley). The Tenleytown stop provides convenient access to one end of the Glover Archibold trail, which connects with the C&O Canal Tow Path at the other end.
Most of these trails are flat and easy; many are paved. Some of the smaller side trails and portions of the Ridge Trail through Rock Creek Park are a little bit rougher. No problem for a hiker but possibly an issue for somebody expecting an easy urban walk.
A tunnel on the Capital Crescent Trail lets you bypass most of Bethesda, but you may want to explore this pleasant area with its many restaurants. The food court by the Metro station has public bathrooms. There are also public bathrooms along the trail a few miles from Georgetown at Fletcher's Boathouse.
The Rock Creek Park Trail as it passes through Georgetown is narrow, crowded with bikes and joggers, and right up against a very busy road. If you're going this direction, I'd recommend a pleasant walk through Georgetown instead.
The Rock Creek Trail continues in Maryland and will take you through Rockville to Lake Needwood. Interesting sights on the way include the Mormon Temple, Woodend Nature Sanctuary, and the National Park Seminary.
Washington, DC - Walking Tours

Distance: you decide, flat at the mall but hilly in places
Location: Washington, DC
Picture: the Jefferson Memorial. See also my other Washington, DC photographs.
Description: Although it isn't really dayhiking, Washington is an excellent city for walking. I can't begin to list all of the possible monuments, museums, galleries, buildings, gardens, and historical sites you could visit. In addition to the standard sights on and around the Mall, you might consider including in your walking tour the National Zoo, Washington National Cathedral, National Building Museum, Arlington Cemetery, Georgetown, Union Station, Dumbarton Oaks Gardens, East Potomac Park, Embassy Row, Capitol Hill, or any of the city's other interesting neighborhoods.
Notes:
The Metro makes it very easy to create very flexible one-way walks. I particularly like entering the city by crossing either Key Bridge (Rosslyn) or Memorial Bridge (Arlington Cemetery).
Although probably a little too remote to be part of your walking tour, the National Arboretum could be a short day of walking in itself. Check it out in spring when the azaleas are in bloom.
Return to Northern Virginia Dayhikes
Questions, comments, suggestions? Please contact feedback@bobcantor.com.