Sharpener Images
---
My personal collection of pencil sharpeners is the inspiration for this series of paintings. Using traditional realistic technique to paint "portraits" of these playful figures, I relish the opportunity to create beautiful works of art combining serious craftsmanship with amusing irony. By treating inexpensive toys with an exaggerated reverence, the paintings themselves become the precious objects worthy of the reverence given to the original subjects. I know I've created a successful painting when these odd little artifacts of consumer society stare back with their own unique personalities and inner lives, boldly confronting the viewer with the absurdity of their own existence.
Read my full artist's statement.
---
A Fast Rooster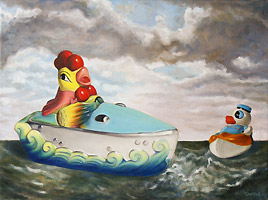 Inspired by the popular Winslow Homer painting on display at the National Gallery of Art in Washington, DC.
---
Rocking Horses
Of all my pencil sharpener paintings, I think these most clearly show the influence of the Index of American Design.
---
Ducks in Boats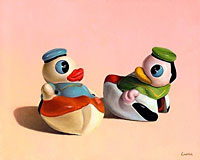 Why do ducks need boats? No explanation. No point in looking for one either. It's all part of a cosmic unconsciousness.